Discover more from Running Tales: After all is said and run
Running news, features, opinions and - of course - the Running Tales podcast
Meet the woman aiming to teach Chicago kids to 'Run Like A Cheetah'
Mary McNerney hopes her new non-profit will help boost children's mental, physical and emotional health
Running Tales: After all is said and run is a reader-supported publication. To receive new posts and support my work, consider becoming a free or paid subscriber.
---
A new running programme in Chicago is hoping to teach students how to manage their emotions, build relationships and show empathy for others.
Run Like A Cheetah is the brainchild of former teacher Mary McNerney, a three times marathoner whose own love of running dates back to High School.
The programme is particularly aimed at children who have suffered past trauma or come from disadvantaged backgrounds, but could potentially benefit anyone within the school system.
Mary is currently seeking to make Run Like A Cheetah, which operates as a non-profit making company, an approved vendor within the Chicago school system.
She told Running Tales: "Kids are really struggling here, with anger, depression, anxiety.
"What better way to help these kids than by getting them moving, introduce a sport to them that they have maybe never done.
"It is to introduce running to show that they can be runners, but at the same time getting them to feel better about themselves.
"They need to feel good, and exercise does that. A lot of the kids go home, they get on their iPads, they sit.
"We want to give them this while they're at school and introduce it to them. Our hope is they will go home and say, 'mum, run around the block with me' or they would do some exercises on their own."
Mary said the idea of Run Like A Cheetah came about when she resigned as a teacher after working in public schools for 25 years.
After spending some time thinking about what to do next, she decided to combine her love of running with a desire to continue working with children.
"This idea just came up that I could help kids and incorporate running," she said.
"Run Like A Cheetah is an outside of the box idea. Schools are not doing it here. There's lots of running programmes after school, but this idea is about taking running into the schools, during the school day and using it to help kids with social-emotional issues."
---
Also on Running Tales:
---
Run Like A Cheetah aims to work within the school day as a fun, non-competitive and all-inclusive way of boosting children's mental, physical and emotional health.
The group's 'Cheetah Guides' will teach running to small groups of children from kindergarten age up to eighth grade (aged 13-14 years old).
The training sessions adhere to five core standards of social-emotional learning: self-management, self-awareness, social-awareness, relationship skills, and responsible decision making.
Thirty minute Cheetah sessions include mindfulness, stretching, warm-ups and cool downs, and goal setting.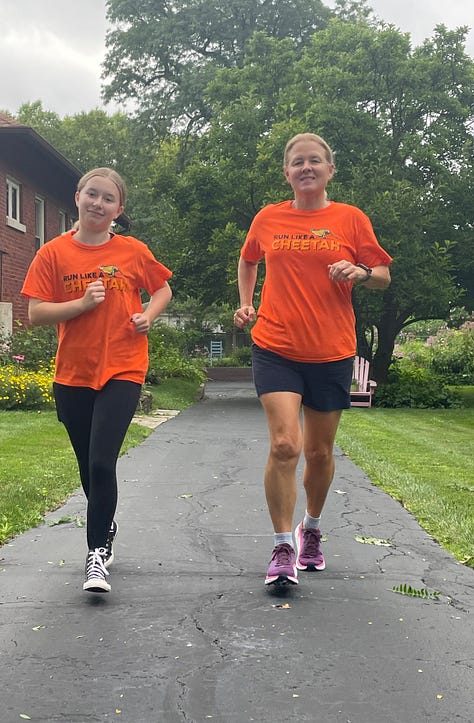 Mary said: "The goals are individual to each student. It could be a running goal of trying to run for a minute.
"Or it could be can you run next to this boy and help each other through this process, or simply follow directions for a session - the goals vary. But at the end we want them to feel better about themselves.
"Some of these kids are the kids at school who don't have motivation. They sit there and don't want to do work.
"If we can get them to participate for 30 minutes in our running session, that's amazing. That is their goal and that will make them feel better."
Mary, who started running when she was 16 after a friend set up a cross-country club and hasn't stopped since, said one of the advantages of the sport at a basic level is that "you just need your gym shoes".
She said: "When you are dealing with kids that have trauma or self-confidence issues, our schools do a lot of talking with them. Sitting them down, trying to make relationships with other kids.
"This is giving them something to do with their bodies, getting them moving and incorporating those goals of getting along with others into a sport.
"You can talk to a kid and say 'I want you to be friends with Joey,' but just talking about it doesn't mean that's going to happen. But if that kid and Joey are running together, having fun together, there's the relationship, there's the friendship."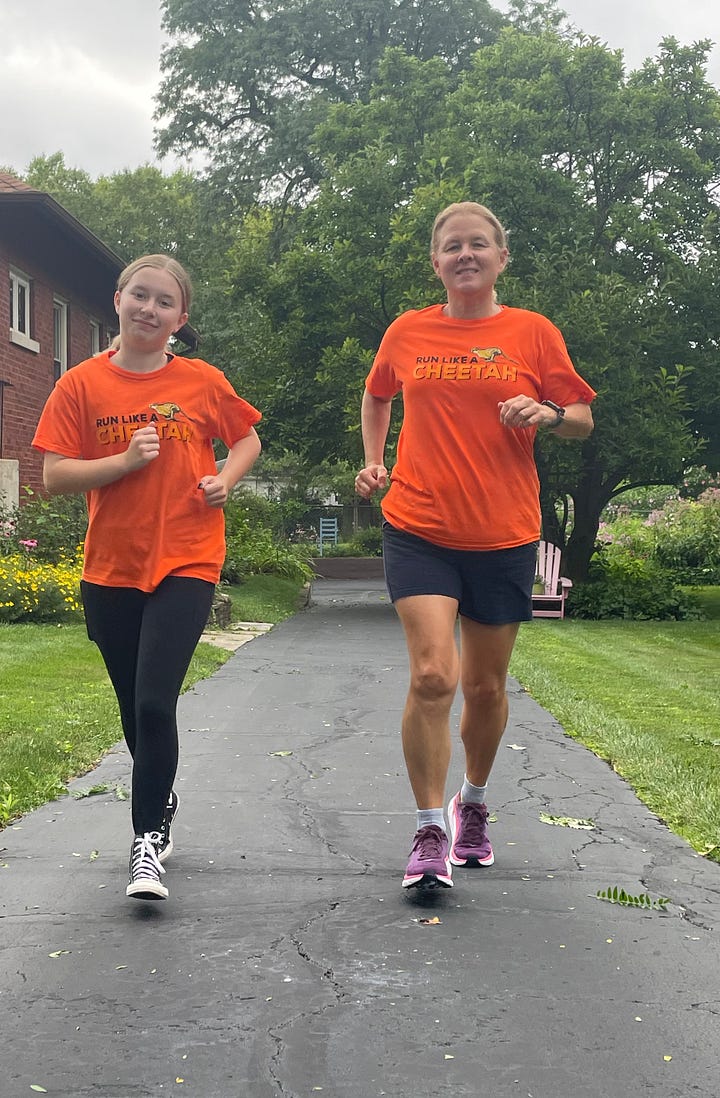 Mary said her own time in teaching showed her how exercise can be beneficial, and why more of it is needed across the school day.
She said: "You teach kids for 40 minutes and then you say 'brain break' and get them to move. You get everyone up, get that energy out and they are so much more focused afterwards.
"There are kids that need more movement than that, and in a smaller group setting. They can then get the attention they need versus being in a group of 30 kids.
"In Chicago, kids do have gym class but they are not getting it every day. They are not getting their 60 minutes of recommended exercise. This is adding to their minutes.
"It is going to help teachers too. If they come to us and say Johnny and Billie, they need some extra movement, then we'll put them in our programme.
"Teachers don't need to do anything. We're coming into the school and we are doing it for them."
As someone who has spent her life immersed in the education system, Mary is convinced Run Like A Cheetah could be a game-changer in terms of the way the school day operates.
"As teachers we are so focused on the reading and math, but I think with Covid and other things going on in the world we are realising that these kids are struggling," she said.
"And we need to do something different. How can we add something to the school day that any child could benefit from? How can we bring more movement into the school day?
"I just don't think we've thought of it that way. The school day has been set for so long as reading, math, science, gym class once or twice a week, but research shows exercise benefits kids."
Mary said by getting kids running and raising their heart rates, they will not only become fitter and healthier but will be more focused in class, more excited to come to school and will build stronger relationships with other children - as well as finding a sport that can bring fun and enjoyment for life.
It is a recipe she is excited to bring to schools throughout Chicago - and beyond.
"I talk to so many teachers and educators who say they love the idea and want this in our schools," Mary said.
"We just need to get this idea to the right people who believe in us and can see how important this programme will be for their schools."
---
Thanks as ever for reading and listening to Running Tales. We couldn't do this without your support - please back us to keep going by…